Dolibarr Service
Dolibarr ERP-CRM is a project management software for your company, an indispensable organizational support. It simplifies the management of your business its simplicity of use and modern ergonomics. Your activity requires the implementation of a management software that corresponds to it, centralizing the tools necessary for the evolution of your company. Thanks to the modularity of Dolibarr, we can now offer you a solution adapted to your core business and your needs thanks to our offer Service.
Modules adapted to service companies
Saving time in entering your data and monitoring your projects is more time to devote to your customers and their projects!
Client - Service
Address book (customers, prospects, partners, etc.)
Trade monitoring
Catalogue of services and benefits
Project
Leadership of the various projects and project teams
Tracking time spent on each task
Overview of project elements
Sales
Commercial proposals
Invoices
Subscription agreement
CRM
E-mailing
Prospecting tracking
Customer service (after-sales tickets)
What does our project management software «Dolibarr Service» offer ?
From prospect to client.
With Dolibarr, you can follow your entire business process as soon as you create a prospect. You can notably manage the follow-up of contacts made for optimal management. Afterwards, you can create and send quotation thanks to Dolibarr. Once your quote has been accepted and signed, it will be added as an attachment to the customer file for easy daily monitoring.
Dolibarr is a project management software, so you can turn your quote into a project in which you can enter the time spent on the various tasks assigned to employees and thus suivre la rentabilité réelle and the progress of this project thanks to our Scrum tool. The system is also able to manage recurring billing to manage your periodical subscriptions.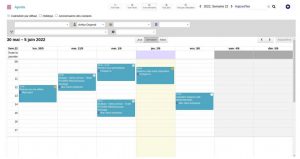 Customer relationship
Our CRM module is designed to simplify communication between your company and your customers or prospects. It thus allows the sharing of commercial information and ensures to keep satisfied customers. You will thus be able to keep all the discussions with your clients or prospects in order to follow the procedures and reminders in progress. This module will also allow you to email campaigns that you will have achieved.
Accounting
Invoicing, payment and theaccounting export are set in a few clicks. Dolibarr allows service companies to monitor the profitability of their customer projects and to highlight the difference between the theoretical and the actual cost. It also allows you to manage the input of time, the progress rate of a project, the management of the estimates and the invoicing for an optimal and at most fair balance.
Simplify your project management thanks to our cloud solution Dolibarr, our open source erp/crm software in SaaS mode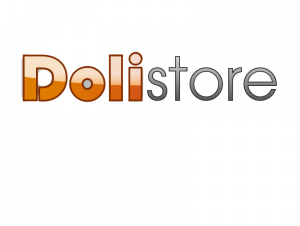 The following Dolibarr modules are included in this offer :
 Avanced dictionnaries, Concat PDF, Doc2Project, Fast upload, Fil d'ariane, Full calendar, Historique de navigation, Historique proposition commerciale, Listes en CSV, Legales notices, Multismtp, Notes prédéfinies, Pièces-jointes d'e-mails, Post-it, Prix client rapide, Recherche avancée par produit, Recherche globale, Recherche produit par catégorie, Scrumboard, Sirene, Split propale, Sous-total.